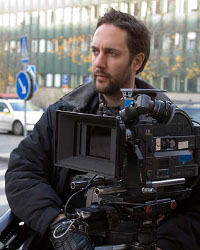 I am a steadicam operator based in Stockholm, Sweden. I work on drama productions and commercials. I have a complete steadicam system, including wireless camera control, video transmitter, cables and brackets to accommodate most cameras. I took my first steadicam workshop in 1994 and have been a fulltime steadicam operator since 1999 when I got my first rig. Now I am flying a Steadicam Ultra2 Cine, Tiffens most advanced fullsize rig. It can handle cameras up to 45 lb. In other words, anything from light DSLR cameras to a fully loaded production camera such as Arri Alexa, Sony F65 or Arricam LT.
I have worked on several productions as second unit DOP and as DOP on commercials for, among others, Björn Borg, DeLaval, Hjärt- lungfonden, Postkodlotteriet, Enesca and Fotografiska.
I also offer competetive pricing on an Arri Alexa Plus 4:3 camera package when I am hired as steadicam operator, camera operator or DOP.
Call or mail me for inquiry.